How to Renew E-Passport Online The most recent generation of passports, known as e-Passports, uses electronic chips to store user information. Due to the difficulty of counterfeiting them, e-Passports are more secure than conventional passports. Your ePassport can be renewed online in a simple and quick process. We'll walk you through the process of updating your ePassport online in this article. We'll also give you some pointers on how to track your application and what to do if something goes wrong.
Required documents to renew e-Passport Online 2023
Copy of national identity card
Copy of birth registration (if the age is 19 or less);
Print a copy of the application summary;
Print a copy of the registration form or application form.
Challan, money order, or bank-certified check
Print copy of previous passport and data page (if any)
GO/NOC for government employees (if any)
Required documents in case of information correction (if applicable)
E-Passport renewal Online fee
A certain amount of money is the most crucial factor in the passport renewal regulations. This is where a lot of individuals have issues. In the passport office, there are a lot of touts. By taking more money than is necessary, they defraud others. If you are aware of this price, you can renew it on your own with the appropriate payment.
| Details | Fee |
| --- | --- |
| 48-page passport fee for 5 years | 4025 Tk |
| 64-page passport fee for 5 years | 6325 Tk |
| 48-page passport fee for 10 years | 5750 Tk |
| 64-page passport fee for 10 years | 8050 Tk |
How to renew your e-passport online
You must follow the same steps as when applying for a new e-passport in order to renew an existing one. Visit this website to find out how to apply for a new e-passport: E‑Passport Online Registration
In this case, you will only need to select the option "Previous MRP Passport" from the "ID Documents" option and provide detailed information.
Follow the steps below from the options shown in the image: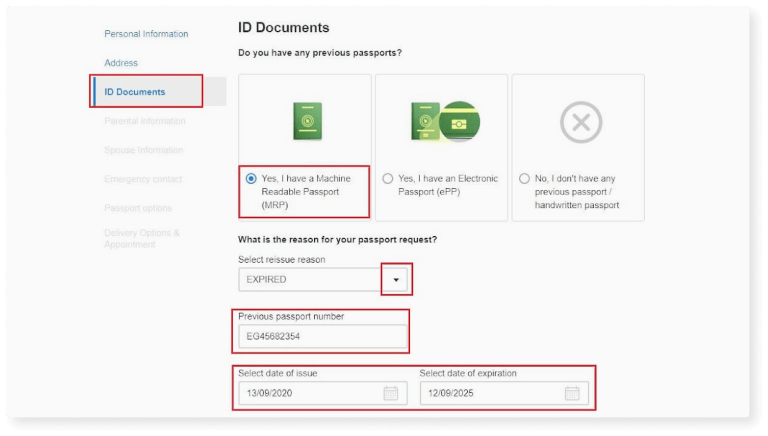 Step-1
After coming to the ID Documents option, select the option "Yes, I have a Machine Readable Passport (MRP)"
Step-2
What is the reason for your passport request? Click on the arrow sign here and select the reason for renewing your passport.
Choose any of your reasons from the following reasons: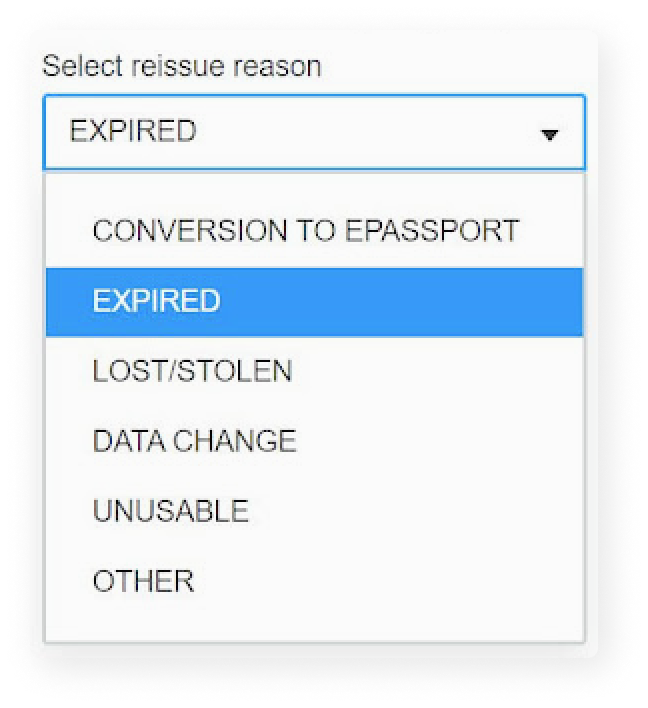 Step-3
Enter your passport number, such as (EG45682354)
Step-4
Enter the date of issue and the date of expiration of the passport. (You will find the dates on the passport's photo page)
Then, complete the remaining steps as you would for a regular e-passport application and submit the application.
To complete the application, you must supply details about your parents, spouse, passport type, and delivery method. Please leave a comment below the post if you experience any problems filling out the passport renewal form or if you have any inquiries.
Click the button below to learn how to check ePassport application status:
Instructions for submitting E-passport renewal form
After applying for passport renewal online, print a copy of the application on A4-sized paper on both sides.
Pay the passport renewal fee.
You will need to attach photocopies of your required documents.
In the case of a re-issue of a passport, the original passport must be shown.
In the case of a lost passport, a copy of the original GD must be shown or submitted.
If your passport is lost or stolen, you must immediately file a GD (General Diary) at the nearest police station. The application must be submitted along with a photocopy of the old passport and a copy of the GD.
FAQs
How long does it take to renew your passport?
In Bangladesh, the regular or normal delivery of a passport renewal takes 15 to 20 days. However, the time can be reduced to 3 to 7 days for urgent delivery.
How can I renew my passport online in Bangladesh?
The old passport has to be renewed in the same way as applying for a new e-passport. However, in the case of renewal, the information of the old passport must be noted exactly.
Is the passport still valid after expiration?
The passport expiration date tells you the date your passport is no longer valid. Once your passport runs out of date, you cannot use it as valid identification.
How to pay passport fees online in Bangladesh?
Through "ekpay option: VISA, Master Card, American Express, Kash, Nagad, Rocket, Upay, Money, OK Wallet, Bank Asia, Black Bank, EBL, City Bank, UCB, AB Bank, DBBL, Midland Bank, and MBL Rainbow)
Can I renew my passport from Dhaka?
Yes, you can renew your passport from Dhaka. There are two ways: Online & In person.
Conclusion
Your ePassport can be renewed online in a simple and quick process. You can effortlessly renew your passport from the convenience of your home by following the instructions provided in this article. Before beginning your application, make sure you have all of the necessary paperwork. You can always get help from the Bangladesh Passport Office if you have any queries or concerns. Today's new post: Visit my website, viralonlinenews24.com.